Conferences, Workshops and Guest Lectures
In Cooperation with the Abraham Berliner Center Heidelberg
28 June 2023
Guest Lecture
Dr. Erica Baricci
(Università degli Studi dell'Insubria, Como)
The Ma'asé Ester. A Judeo-Provençal Poem about Esther
Hochschule für Jüdische Studien, S4
at 6.15 pm
Participation is also possible via Zoom: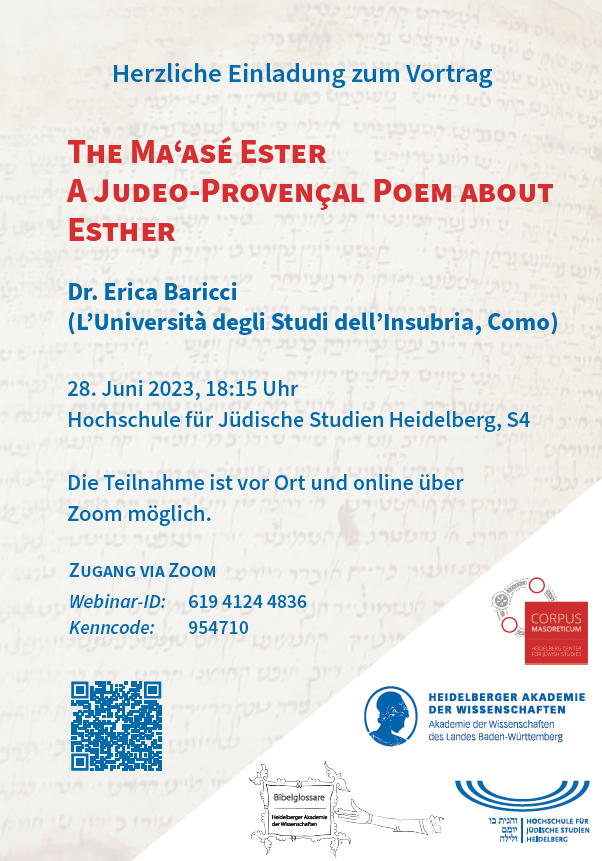 31 May 2023, Abraham Berliner Lecture 2023
Guest Lecture
Prof. Meira Polliack (Tel Aviv University):
A Medieval Foray into the Moral Development of Biblical Characters
where: Hochschule für Jüdische Studien, S4
when: 6.15 pm
Participation is also possible via Zoom: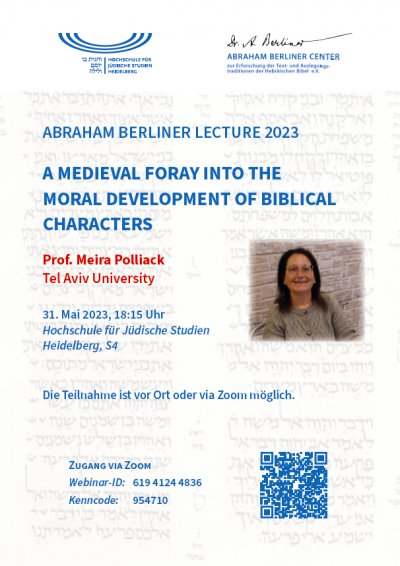 02.11.2021, Digital Workshop:
Artists and Philologists: The Scribes of Micrographic Illustrations in Bibles and Prayer Books
The workshop focuses on Hebrew paleography with special emphasis on the script of Masoretic notes and micrographic illustrations. It sets out to shed new light on the scribes of Bibles and Prayer books who added the micrographic illustrations. Questions to address are
How individual are masoretic scripts?
How can we distinguish between scribes?
The division of roles in producing a masoretic Bible.
Does the type of script in the masora figurata illustrations may give hints as to their significance for the respective scribes
Differences between Ashkenazi and Sephardic scribes and their methods of Writing?
Zoom-Meeting
9 am CET - 5:30 pm CET
https://us02web.zoom.us/j/86205543624?pwd=NVFwa1JVUWdiTXptVVF3ZHYrZE1XQT09
Meeting 1D: 862 0554 3624
Code: 180505
10.06.2020, Abraham Berliner Lecture 2020 with Prof. Dr. Meira Polliack, Tel Aviv University
Due to the current situation with coronavirus, we were forced were forced to cancel the scheduled workshop and lecture by Prof. Dr. Meira Polliack. Stay connected for further plans for 2020/21.
03./04.02.2020,

Research Kolloquium at the Chair for Bible and Jewish Biblical Interpretation, Heidelberg Center for Jewish Studies
Kolloquium
In February, Hanna Liss and her team organised this year's very intensive and productive colloquium of the chair of Bible and Jewish Exegesis at the Heidelberg Center for Jewish Studies. Many thanks to all the presenters, participants, and guests – amongst them the Corpus Masoreticum team Clemens Liedtke, Sebastian Seemann, Maria Seidel, and Renate Smithuis. We are deeply impressed by the quality of the research projects, their variety, and the scientific enthusiasm of all our young scholars!
30.01.2020, Guest Lecture "Textus babylonicus: Der konsonantische Text der biblischen Handschriften mit babylonisch- jemenitischer Punktation" with PD Dr. Gianfranco Miletto
Guest Lecture
Dr. Miletto presented his latest research results of his current project, funded by the German Research Foundation: The aim of the project is the complete collection and computerization of textual variants of the Biblical manuscripts of the Babylonian and Yemenite tradition. The reading variants should then be compared with other ancient textual witnesses (Samaritan text, the LXX and the other Greek translations, Peshitta, and Vulgate Vetus Latina and Targumim) and classified in their historical context. The analysis of these variants will open a new perspective for the reconstruction of the biblical text story and make available a hitherto unexplored material which grants new insights into the historical development of the biblical text, both in its pre-Masoretic and in its Masoretic period.
22.05.2019, Workshop and Abraham Berliner Lecture 2019 with Prof. Dr. David Marcus "The Rationale Behind the Masoretic Notes"
Workshop and Guest Lecture
Dr. David Marcus, Professor of Bible and Masorah at the Jewish Theological Seminary New York, who is also member of our advisory board, held this years' Abraham Berliner Lecture: David Marcus gave a workshop for students and in the evening we had the honour to welcome him to give his well attended and well received Abraham Berliner Lecture.
18.–21.12.2018, Workshop "Introduction to Codicology and Paleography": Experiencing Jewish Manuscript Cultures
Workshop
A workshop taught by Hanna Liss and Diana Matut at the Heidelberg Center for Jewish Studies introduced – in theory and practice – the necessary methodological tools for the work with as well as research of Medieval manuscripts.
Students learned and experienced how parchment, ink, and quills were made; how codices were bound and written; and to differentiate the different geocultural families of Jewish Medieval manuscripts.
09./10.05.2018, Conference "Masorah and Aesthetics", Heidelberg
International Conference
Programme
Wednesday, May 9th: Welcome Address & Lectures
Welcome Address & Presentation of the New Project to Come: Corpus Masoreticum
Sara Offenberg, Ben Gurion University of the Negev:
Illustrated Secret: Esoteric Traditions and Micrography in Medieval Erfurt
Dalia-Ruth Halperin, Talpiot College of Education, Holon:
Micrography Falconers: An Exegetic Text and Image
Annette Weber, Heidelberg Center for Jewish Studies:
The Migration of Micrography in German Lands
Hanna-Barbara Rost, Heidelberg Center for Jewish Studies:
Iconographic Research on Masoretical Illustrations in Bible Manuscripts of the 13th and 14th Century
Hanna Liss, Heidelberg Center for Jewish Studies/Heidelberg University:
Figurative Masorah against Christian Hebraism
Kay Joe Petzold, Heidelberg University:
Masorah and Rashi Commentary in MS Vat. Ebr. 14
Thursday, May 10th: Workshop Sessions
Session I: Head Covering/Clothes, Animals in Ashkenazic Masorah Figurata and their Relationship towards Contemporary (Christian) Art
Session II: Mystical Creatures, Plants/Trees in Ashkenazic Masorah Figurata and their Relationship towards Contemporary (Christian) Art
Session III: Parameter Settings for the Future Database
Session IV: Codicological and Paleographical Questions